Hebraic Roots Study Hall
Quick Jump Menu
ebrew/Biblical Calendar
Unleavened Bread
What the Rabbis Teach about the Ten Tribes
The Two Houses: An Orthodox Jewish Perspective
Hebrew Roots Teachers (Audio and Video) <![if !supportLineBreakNewLine]>
<![endif]>
Bride of Messiah
Who is the Bride of Christ? (book)
The Marriage of Messiah to the House of Jacob
The Ancient Biblical Wedding Ceremony and the Bride of Messiah
PowerPoint Slides to go with Audio
The Bride of Messiah and Jewish Wedding Customs (Part 1 of 2)
The Bride of Messiah and Jewish Wedding Customs (Part 2 of 2)
Preparing the Bride: The Sin of Leprosy (Part 1 of 2)
Preparing the Bride: The Sin of Leprosy (Parts 2 of 2)
Preparing the Bride: Oil for our Lamps (Part 1 of 3)
Preparing the Bride: Oil for our Lamps (Part 2 of 3)
Preparing the Bride: Oil for our Lamps (Part 3 of 3)
A Reluctant Bride (Part 1 of 2)
A Reluctant Bride (Part 2 of 2)
Esther: A Type and Shadow of the Bride
Numbers 5: The Adulterous Bride
The Bitter Waters of an Adulterous Wife
Do you have to be Jewish to be the Bride?
Matthew 25: The Parable of the Ten Virgins
Is the Bride the Church or Israel?
Can the Bride of Messiah lose her salvation?
What does the term 'Outer Darkness' mean?
Who will be in the New Jerusalem? What about Matthew 7:21-23
Obedience brings the Blessing and Reward
Yeshua from Genesis to Revelation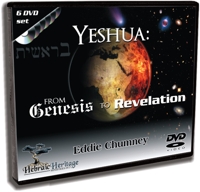 This DVD series reveals Yeshua in the entire Bible (Psalm 40:7, Luke 24:44). Yeshua is in the Torah. He created the heavens and earth, made covenant with Abraham, led the children of Israel out of Egypt, gave the Torah at Mount Sinai, is the bridegroom of Israel and the glory of God that filled the tabernacle. Yeshua died on the tree to unite the twelve tribes of Israel (John 10:16-17, 11:49-52). Yeshua will gather the twelve tribes of Israel during the tribulation period and be glorified. He will reign during the Messianic Era as King over the whole earth teaching the Torah to all nations. While revealing Yeshua from Genesis to Revelation, this DVD series also teaches the basic principles of the Hebraic roots of Christianity, including who is the house of Jacob, Torah is for all believers in Yeshua, and Two Houses and the New Testament. Finally, this DVD series gives a Hebraic perspective of the end of days. In all, twelve hours of power packed teaching!