Weekly Teachings
Quick Jump Menu
Listen Live
5 Minute Update
Weekly Torah Teachings
Newsletter
Israel Tour 2010 Report


November 7-18, 2010 Eddie Chumney and Monte Judah hosted a tour to Israel for Messianic believers. The group totally 39 plus our driver and tour guide had an amazing time of seeing the Land YHVH has given us as an inheritance. We return from the Land as "Moses and Joshua's Spies" (spies is really the Hebrew word meaning tour) and here is our GOOD REPORT!
Israel Tour Audio Report and Pictures
Jocelin Boutet (JocelinOhio) shares about the trip, what they experienced, and some of the lessons Eddie and Monte shared. The audio is about 2 hours and 20 minutes long.
During the Audio Report, Jocelin references the pictures which she was showing the group live. Here are the links to the public Facebook albums we have created which allow you to see those exact same pictures with captions and the audio descriptions.
Day 1
Day 2
Day 3
Day 4 - Also one of the two best days on the whole trip...
Day 5
Day 6 - The other "top" day on the trip
Day 7
Day 8
Day 9
Day 10
Day 11
Day 12

Israel Tour Videos
We also captured some key moments on video and want to share them with you!
Singing on the Bus soon after Arriving in Israel
On Mount Carmel - Eddie Teaching
Hebraic Song on the Sea of Galilee
Shema Sung by Rafi (our tour guide), Eddie Chumney, and Sherman
Visiting Abraham, Yes, Father Abraham
Visit with Moshe - an Orthodox Jew with a Message for Us
We'd love to hear how this report has impacted you. Please visit our special Israel Tour Report Blog Entry and share (leave a comment)! Click here to do so.

Yeshua from Genesis to Revelation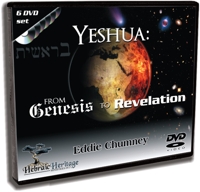 This DVD series reveals a in the entire Bible (Psalm 40:7, Luke 24:44). Yeshua is in the Torah. He created the heavens and earth, made covenant with Abraham, led the children of Israel out of Egypt, gave the Torah at Mount Sinai, is the bridegroom of Israel and the glory of God that filled the tabernacle. Yeshua died on the tree to unite the twelve tribes of Israel (John 10:16-17, 11:49-52). Yeshua will gather the twelve tribes of Israel during the tribulation period and be glorified. He will reign during the Messianic Era as King over the whole earth teaching the Torah to all nations. While revealing Yeshua from Genesis to Revelation, this DVD series also teaches the basic principles of the Hebraic roots of Christianity, including who is the house of Jacob, Torah is for all believers in Yeshua, and Two Houses and the New Testament. Finally, this DVD series gives a Hebraic perspective of the end of days. In all, twelve hours of power packed teaching!